Search by product name, model number or type
Subscribe to our newsletter
Promotions, new products and sales. Directly to your inbox.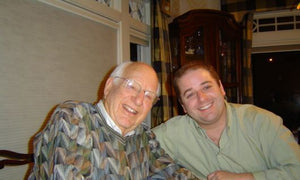 George Batavia
"A Great Man with the biggest heart and brightest smile!"
He will be missed but never forgotten.
November 1, 1921- August 16, 2005
I would like to thank all of you for your kind words and sentiments in regards to my Grandfather, George  Batavia. I appreciate your thoughtfulness.
I am honored to follow in the footsteps of my Great Grand Father, Joe Clar, Grand Father, George Batavia, and Father, Clyde Batavia and Cousin Mark Clar.  
With all their support over the years, they have taught me what I know today about the Machinery Industry.
My Grandfather had a major influence in encouraging myself to continue in the Machinery business and in starting Batavia Machinery.   
He helped cultivate my interest and drive into this industry. I am forever grateful for him.  
I have and will always respect and appreciate his great love for and knowledge of the Machinery Business.
Thank you for you support,
Eric Batavia